About Hypnotension™
Hypnotension is a collaboration between Rob Woodgate and Paul Howard, who are both certified hypnotherapists and Fellows of the UK's National Council for Hypnotherapy.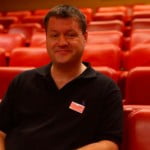 With a combined experience of over 20 years of helping people take control of their blood pressure, they have identified a whole host of hidden emotional and environmental factors which cause blood pressure to rise in otherwise healthy people.
These factors — which they call the "X-Factors" — include things like unresolved anger, conflict or guilt, feeling a lack of control over your life, and even environmental stressors such as noise, allergens and pollution.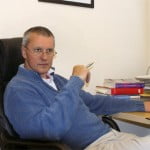 Long term exposure to one or more of these X-Factors creates an ongoing, chronic stress response, and although you may have long since accepted this as 'normal', it can add up and take its toll over a period of years.
The great news is that these emotional and lifestyle factors make up 95% of all high blood pressure cases – what doctors call primary or essential hypertension – so the chances are that there are plenty of things that you can do, quite easily, that will put you back in control of reducing your blood pressure.
The Hypnotension Programme
We have been helping people lower their blood pressure since 2003, however there are only so many people we can see personally, and with 16 million high blood pressure sufferers in the UK alone we realised it would take us 10 years just to help just one-thousandth of one percent (0.0001%).
We decided that that simply wasn't good enough, so we developed the Hypnotension programme to teach other professionals our potentially life saving techniques to reducing blood pressure.
We've now trained hundreds of people worldwide to give them the specialised training that they need to help people just like you to reduce their blood pressure so they can look forward to living longer healthier lives.
We call them Certified Hypnotension Practitioners, and they can help you to identify and address the emotional and lifestyle factors that are unique to you, and with their help you can lower your blood pressure and even return it to normal levels.
Find your local Certified Hypnotension Practitioner now.
The Hypnotension™ Trademark and Seal of Approval
We care deeply about the quality of the people we train and the integrity of the programme we've developed, and so we invented the word, "Hypnotension" and trademarked it.
Only bona fide hypnotherapists officially trained by us are allowed to use the word Hypnotension and call themselves Hypnotension Practitioners, and we keep a public list of all of the officially Certified Hypnotension Practitioners.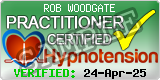 In addition, properly licensed practitioners may display a seal of approval on their website. This is an interactive seal which checks the practitioner's status and updates itself every day, so always check that the date on the seal shows the current date.
If you find our Hypnotension trademarks being abused, or you are not sure that a hypnotherapist is properly licenced, please contact us in confidence.